IMF urges lawmakers to do more to boost U.S. recovery - Jul. 3, 2012
IMF warns on U.S. economy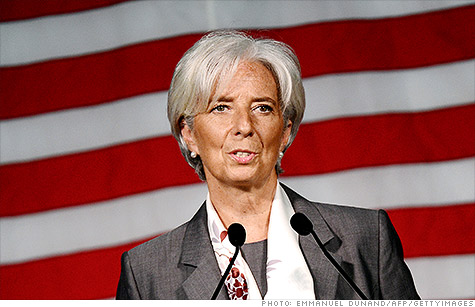 Christine Lagarde, managing director of the International Monetary Fund, is encouraging U.S. lawmakers to focus on boosting the economy now, and worry about cutting deficits later.
NEW YORK (CNNMoney) -- Boost the U.S. economy now and worry about cutting deficits later, the International Monetary Fund recommended Tuesday.
The U.S. recovery remains "tepid" and according to the IMF, is expected to grow only 2% this year. Meanwhile, the
fiscal cliff
looms in 2013, threatening to reduce the economy's growth to only 1% next year.
Amid that weakness and threats from slower growth abroad, the IMF recommended U.S. policymakers spend more on infrastructure, worker training programs, extended unemployment benefits and fixes for the housing market.
DO YOU THINK IT WILL WORK?